22 Nov

Arrest All Mimics Podcast – Miss Led talks to Ben Tallon Again!
Lets Talk Podcasts : Are you like me and hooked on them yet?
I love to listen to podcasts and audiobooks when I'm working – other than gaining the joy of multitasking which I'm a little obsessed with – I get to shut off the left side of the brain. You know the instructive more pragmatic hemisphere . The one that brings down that once amazing idea and crushes to the ground? Yes, you got me. I get to shut that down and allow the right part to work in full swing. 
If you haven't tried drawing, sketching, or painting with an audiobook I'd totally recommend you trying it. Only one caveat, it could be a little tricky to start, but worth the effort if you stick to it!
I'm going to introduce you a great resource – so there's no excuse to get started right away.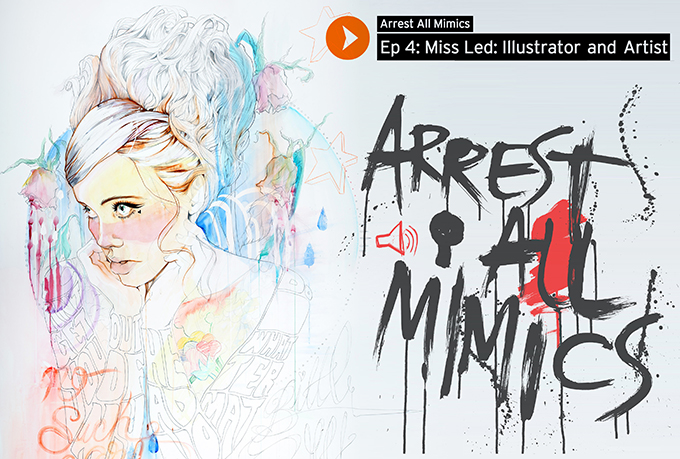 Around this time last year, I met Ben Tallon in an Airbnb flat in a very sunny Williamsburg, Brooklyn. I'd met him once previously at an industry event a few years back. In that time he was not only progressing as a hugely talented illustrator and art director, he was also a contributing writer to Design Week and had written a book that was in the top 5 rated selling books in illustration, Champagne and Wax Crayons
So pretty much a fresh arrival in NY and after a glorious run in the local neighbourhood we recorded Episode 3 of Arrest All Mimics.
Arrest All Mimics Podcasts are an invaluable resources for anyone working in the creative industry.  A wealth of knowledge and wisdom imparted by some of of the best in the creative community published for the creative community.
"Arrest All Mimics, as a title, is a nod to original thinkers and creative innovators who are doing their own thing, wholeheartedly. That ethos underpins the show, a casual, frank conversation with inspiring people about inspiring projects, influences, backgrounds and aspirations right across the visual arts, from design and illustration, to theatre and film, covering everything in between
The show started after Ben Tallon released his debut book, Champagne and Wax Crayons: Riding the Madness of the Creative Industries and wished to continue his documentation of the vast amount of stunning work in the arts. Working with Illustration Ltd, he began to explore the on-demand audio world of podcasting, which would allow people to hear from a broad range of creative professionals and not have to compromise increasingly busy lifestyles. Ben says "I think podcasting provides an instant and intimate medium that will allow listeners greater access to the minds behind some of the most trailblazing personalities and projects in our world. We all take inspiration from the path people have taken and I believe that everyone can take many positives from hearing about the unique journey that led them to producing something truly original. All creative work is a product of the personality, so Arrest All Mimics is about showcasing the people behind the work to allow us to join the dots."
Touching on topics such as Illustration Careers, a talk with The Association of Illustrators, Identity and Creativity, Making a mark, Creating Ideas and more!
---
Guests include –
Illustrator, Artist, Art Director and live painter, Miss Led
Photographer and illustrator, Danny Allison
Illustrator and former Chairman of the AOI, Rod Hunt
Illustrator, merchandise Queen and author Sandra Dieckmann
Chair of Creative England, John Newbigin
Creative Director of Stylorouge, Rob O'Connor
Professor of Theatre at New York University, Rebecca Johannsen
Painter and artist, Robert James Clarke
The Association of Illustrators
And so much more!
---
Here's links to both Pods –  Click on the following images to access a wealth of info on
finding your way back after a break from creativity
the power of positive enforcement
working with others and in groups for gaining confidence and inspiration
authorship – how to work with others and develop from designer to art director
ENJOY!